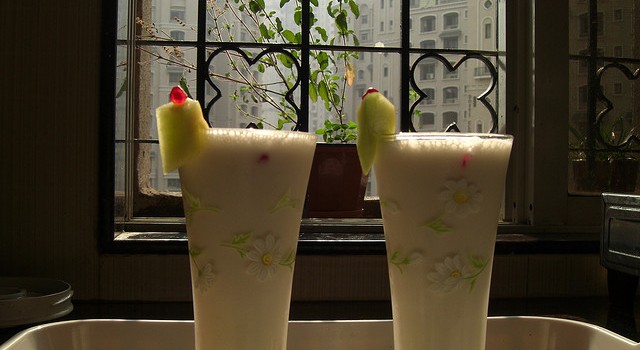 During summers, it is difficult to venture outside in the scorching sun and the continuous sweating troubles us nonetheless. We also tend to feel more thirsty and lethargic during this season. When it comes to quenching our thirsts, majority of us opt for aerated colas and artificial flavored drinks. All these bottled and packaged drinks may be hygienic but they contain chemicals that can adversely affect our overall health in the long run.
Luckily, there are some fruits and vegetables that grow in summer that also contain the necessary nutrients and adequate carbohydrates to supplement our parched bodies!
Using these edible gifts of the Mother Earth we can prepare our own healthy, tasty, and 100% natural summer drinks.
We have listed below our own list of top 5 body-relaxing summer drinks along with their recipes for you:
1. Aam Panna or Raw Mango Juice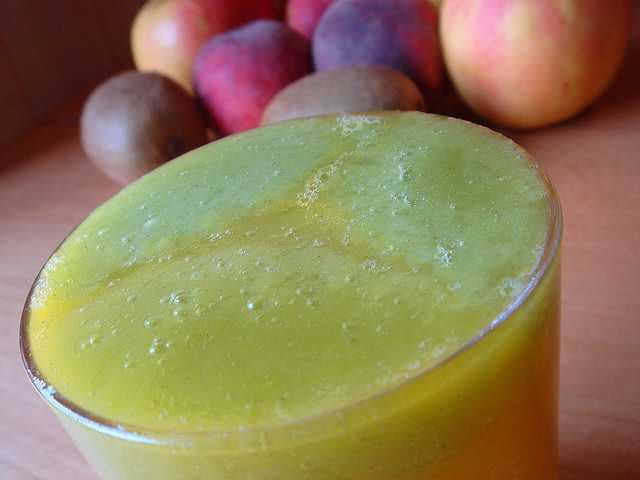 Photo by Alexandre Duret-Lutz, CC BY-SA 2.0
This sweet and tangy drink is made from boiled raw mangoes and is flavored by a number of spices. This drink protects us from heat stroke and other common summer diseases. It supplements our bodies with vitamin C and prevents excessive loss of sodium chloride, and zinc at time of sweating.
Method for preparation:
Wash and cut two medium-sized raw mangoes in pieces.
Cook all the pieces in a pressure cooker or in a pail of water till they become soft.
Remove the peel of all pieces and put the pulpy mixture in a bowl.
Add 1/2 tsp of cardamom powder, 1/2 tsp of black pepper, and 1 tsp of black salt to the mango pulp.
Add jaggery or sugar to this mixture to make it sweet in taste.
Using a blender, mix all the ingredients till the mixture becomes smooth.
Add 1 tbsp of this mixture to 1 glass of water and serve this drink chilled.
2. Lassi or Chhaas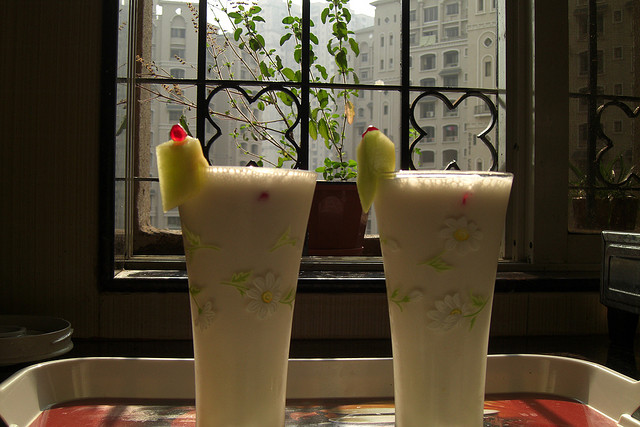 Photo by Swaminathan, CC BY 2.0
Lassi is a famous yogurt-based sweet drink of the Indian cuisine. This protein-rich drink keeps your body cool and keeps you energized. It also contains probiotic bacteria that strengthen our digestive system. When salt is added instead of sugar, then the drink is known as Chhaas.
You can have lassi with added spices such as cardamom and saffron or you can blend it with any of your favorite summer fruit.
Method for preparation (Mango Lassi):
It is a thick, creamy, and sweet lassi with a strong mango flavor.
Add 1 cup of chopped mangoes, 1 cup of fresh yogurt, and 1/2 cup of cold milk in a mixer.
Add 1 tsp of cardamom powder and 2 tbsp of powdered sugar to this mixture.
Turn on the mixer and blend the mixture till it becomes smooth.
Serve the mango lassi chilled or add 2-3 ice cubes to it while serving.
3. Bel Sharbat or Wood Apple Shake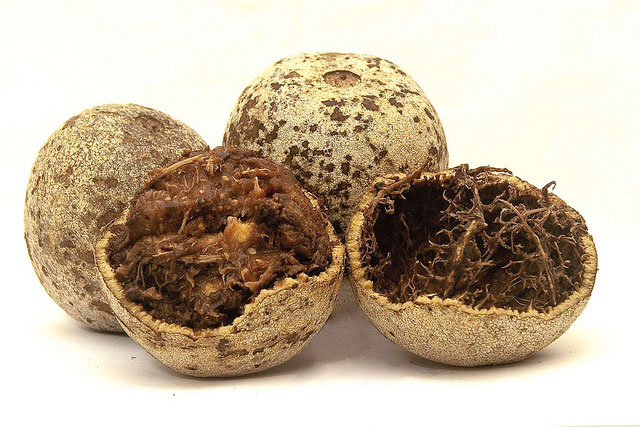 Photo by Hafiz Issadeen, CC BY 2.0
Bel, also known as 'wood apple' is a rich source of many vitamins, minerals, anti-oxidants, dietary fibers, and amino acids. The Bel sharbat is a healthy sweet drink that acts as a natural body coolant and is also good for your digestive system.
Method for preparation:
Take out the fruit pulp of a ripe bel and place it in a bowl.
Add to 2 glasses of water and 1 cup of sugar to this pulp.
Mix all the contents in the bowl thoroughly or you can use a mixer grinder to perform this step.
Strain this mixture and add 8-10 drops of lemon drops to this drink.
Add 2-3 cubes of ice or serve this drink chilled.
4. Nimbu Paani or Lemonade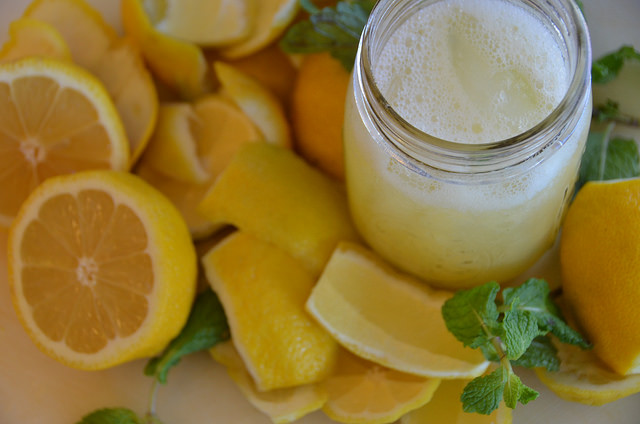 Photo by Rob Bertholf, CC BY 2.0
This is one of the most common and easiest to make summer drink in India and around the world. It is primarily made from lemons and you can sip this drink, all year round. This tangy drink is rich in Vitamin C, magnesium, and other essential minerals.
It is easy to make and you only have to squeeze out the juice of a ripe lemon into a glass of water. You can add sugar or salt as per your choice. You can also add different herbs and fruits to turn it into a flavored nimbu paani with extra health benefits.
Method for preparation (Basil lemonade):
Popularly known as Tulsi, this plant is regarded as a medicinal and sacred plant in India. Basil lemonade is made using basil leaves, lemons, sugar, and water. It tastes sweet and has a pungent flavor.
Add freshly-squeezed juice of 2 lemons to 2 glasses of water in a mixing bowl.
Crush 6-9 fresh basil leaves into bits and add them to the lemon juice.
Mix 4 tbsp of sugar to the lemon juice, properly.
Using a strainer, remove all residues from the lemon juice.
Add 2-3 ice cubes to Basil lemonade or serve chilled.
5. Iced Lemon Mint Tea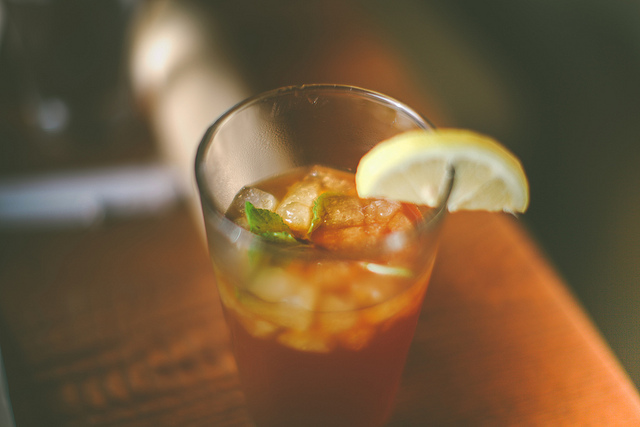 Photo by Basheer Tome, CC BY 2.0
This reenergizing cool tea is a favorite summer drink of all tea-loving persons.
Method for preparation:
Add 2 cups of water and 2 tsp of tea in a container.
Start boiling this mixture and then add 2 tsp of sugar.
After the tea is prepared, keep it aside to cool it down to room temperature.
Squeeze 2 slices of a lemon into this tea.
Crush 3-4 mint leaves and add them to the lemon tea.
Serve this drink chilled or add 2-3 cubes of ice.
There are other drinks too that will make you bear the sultry days and nights of a summer month with ease. You can also try out the daab (plain coconut water) or the spicy Jal Jeera drink for that refreshing experience.
If you are creative and daring enough to make your own amazing summer drink, then do share your recipe with us!