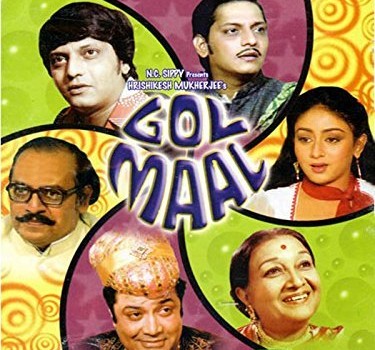 From witty one-liners to endearing goofy acts, comedy movies are always a favorite of all age groups. A comedy movie acts as an effective stress-buster and is a popular way to pass your spare time.
Undoubtedly, the comedy is one of the most popular and successful genre of Indian Cinema. The Bollywood industry has, in fact, churned out many successful, mediocre, and super-flop comedy movies, over the years.
The Bollywood comedies which went on to become house-full hits have rib-tickling dialogues delivered by talented actors who have superb comic timings. Some of these movies are considered as Bollywood classics. The best fact about these timeless King of Comedy films is that you can watch them with your family members along with children!
We bring you 5 must-watch Bollywood Hindi comedy movies that will surely send you into fits of uncontrollable laughter:
1. Padosan (1968)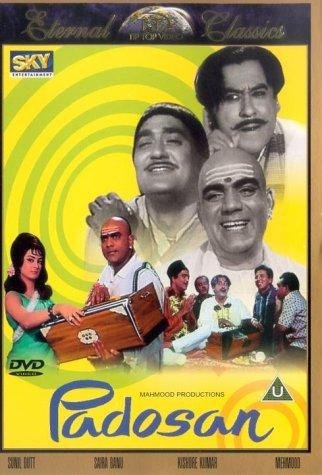 Image from imdb.com
Directed by Jyoti Swaroop, Padosan is a lighthearted romantic comedy film with endless funny dialogues and many memorable melodious songs. It became a milestone movie of its time and one of the finer comedy films in the history of Indian Cinema.Interestingly, this Hindi movie is adapted from a Bangla story titled 'Pasher Bari', authored by Arun Chowdhury.
The story is about a simpleton named 'Bhola' (Sunil Dutt) who falls in love with his glamorous neighbor 'Bindu' (Saira Banu). With the help of his singer friends, clandestinely, he tries to woo the feisty girl-next-door away from her music teacher named 'Masterji' (Mehmood).
The highlight of this movie is the famous funny song 'Ek Chatur Naar' sung and immortalized by Kishore Kumar and Manna Dey.
2. Golmaal (1979)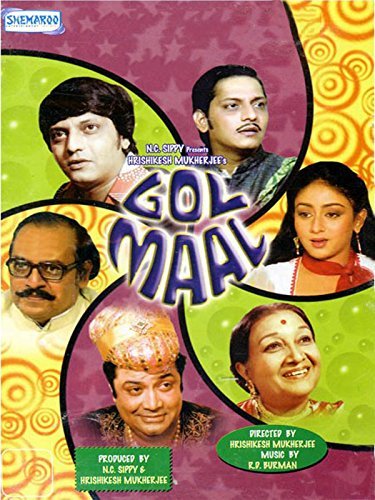 Image From imdb.com
It was produced by the legendary filmmakers N.C. Sippy and Hrishikesh Mukherjee. With its super funny storyline and superb performance of all its actors, this must-watch hilarious super-hit movie set a new benchmark for comedy films in Bollywood. The song 'Aane Wala Pal' is still a favorite of many people, both old and young. This moustache-centered comic caper will make you laugh every time you watch it.
Golmaal, the 1979-blockbuster film, won the Filmfare awards for Best Actor (Amol Palekar), Best Comedian (Utpal Dutt), and Best Lyricist (Gulzar).
3. Angoor (1982)
Loosely based on the famous Shakespeare's play 'The Comedy of Errors', this Gulzar-directed hit movie is a laugh-riot from start to finish. This Sanjeev Kumar-starrer revolves around the case of mistaken identities. It is about two different pairs of identical twins separated at birth and how they unintentionally create mayhem around them when they meet in adulthood.
Deven Verma won the award for Best Comedian in the 30thFilmfare Awards, for his double-act as 'Bahadur' in this movie.
4. Chhoti Si Baat (1975)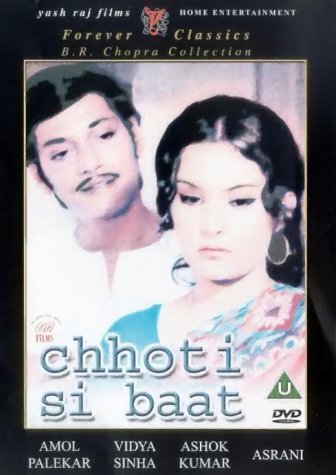 Image from imdb.com
Chhoti Si Baat, produced by B.R. Chopra and directed by Basu Chatterjee, is a boy-meets-girl love story with a funny twist. The story is about the introvert and timid young man named 'Arun' (Amol Palekar) and how he ultimately wins the affections of his lady-love named 'Prabha' (Vidya Sinha). Under the tutelage of a love-guru 'Colonel JN Wilfred Singh' (Ashok Kumar), 'Arun' finally transforms into a self-confident man and engages himself in a battle of wits with his competitor 'Nagesh' (Asrani) who also wants to win over 'Pratibha'.
This film went on to become the blockbuster hit of the year and earned the 1977-Filmfare Awards for Best Screenplay and Best Film.
5. Johar Mehmood in Hong Kong (1971)
Directed by S.A. Akbar, this funny Hindi movie, shot at exotic foreign locations, has Mehmood, I.S. Johar, SoniaSahni, and Pran as lead actors.
The story is about two con-artists 'Ramesh' (I.S. Johar) and 'Mahesh' (Mehmood) who land up in Hong Kong in search of a girl named 'Sonia' (SoniaSahni) and end up stealing the formula of an atomic weapon with her help in order to save the country from villains.
If you find any other old Bollywood comedy film equally suitable for today's generation, then do let us know.
Keep watching, keep laughing!